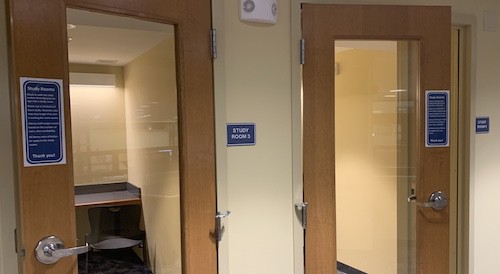 Cheshire Public Library currently has four study rooms available for public use on the library's lower level.
Study room 1 can accommodate three people.

Study room 2 can accommodate six people. It is wheelchair accessible.

Study rooms 3 and 4 can each accommodate two people.

All study rooms have electrical outlets.
Reservation Guidelines
Patrons can reserve study rooms 1, 2, and 3 up to two weeks in advance. There is a maximum of two reservations per week per person.

Study room 4 is available on a walk-in basis only and cannot be reserved in advance.

Study rooms can be booked in 30-minute increments for a maximum of two hours.
Check in with staff at the information desk before entering your reserved study room.
Reservations will be held for 10 minutes. If you do not show up for the reservation within 10 minutes or call the library at

 

203-272-2245

 

to let us know that you will be late, the room may be made available to other patrons.
If you would like additional time beyond your reservation, check with staff at the information desk about room availability. If there are no pending reservations, you may be allowed to continue using the study room.
All study rooms must be vacated 15 minutes prior to the library's closing.
Please observe all library rules and leave the room as you found it.
Can't reserve online? Call the information desk at 203-272-2245 ext. 33007 to make your reservation.